ND-6A2226
High presition 6 axis Machine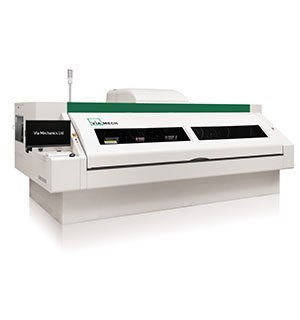 The newest machine in the world's bestselling series. A versatile model capable of a wide variety of processing including automotive PCB, high frequency substrate, and back drilling
Drill Diameter

0.1~6.35 mm

SP speed

160,200k rpm
PC/Motherboard
HDI
BGA
CSP
FC-BGA
Aoutomotive
Product Type
ND-6A2226
Number of Stations/Spindle Spacing
6stations/560mm(22.0 inch)
Max. Drilling Area
660mm×560mm
(26.0 inch×22.0 inch)
Spindle
H916:15,000~160,000min-1
H920:20,000~200,000min-1
Drill Diameter
Φ0.1~φ6.35mm
Number of ADC
300 kinds 300 tools /axle
Z axis Feed Rate
0.101~12.7m/min
X,Y axis Positioning Accuracy
±0.004mm
Drilling Accuracy
±0.015mm
CNC
MARK-55N

Technology

Providing reliability and high quality by own core technology.
・Realizes high speed and high accuracy by machine structure.
・Controls the XYZ axes by original servo compensation technology.
・Providing own CNC and various applications.
・Development of our own spindles and spindle production by ABL in the UK.

High speed and high accuracy

Achieves high speed and high accuracy by integrated design of servo control and machine.

Energy saving

The industry's top class energy saving performance.
・Power consumption average 8KVA.
・Air consumption average 400L/min.