Corporate Philosophy, Name & Logo
Corporate Philosophy
We will achieve sustainable growth together
with our customers by providing superior
technology and reliable service.
Having pride, dignity and confidence as
employees of Via Mechanics, we aim to realize
a fulfilling workplace where we contribute to
the prosperity and vitality of society.
Corporate Name"Via Mechanics"

In the PCB industry we use the term "via" for the "through hole"connecting printed wiring patterns on the top surface of a PCB to those on the bottom. The "VIA" in our coroporate name "Via Mechanics" comes from that.
As a manufacturer of processing machines that making high-quality via holes on various PCBs, "via" is what our business has been based on and also, our identity.
Further, the word"via"is Latin for"road"and is English for "By way of", the both have the sense of "Connection".
By way of products and technology, people, business, society and nature are conneced, and future, present and past are connected as well as countries and regions are globally connected. Our wish to always produce such proucts and technology is expressed in our corporate name "Via Mechanics".
Brand Mark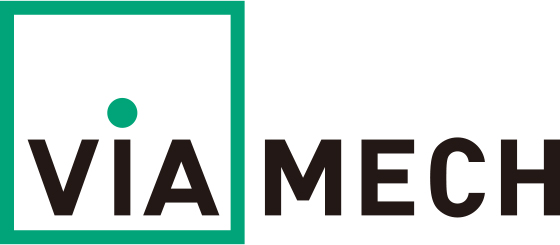 Our expectation to new Logo mark which symbolize newborn Via Mechanics. This green square represents benchmark in the PCB process. We would like to put ourselves as benchmark for always supporting and leading this industry and providing standard to this industry. This is our wish.
Also, in this term, there is another meaning in this Logo. The letter "i" represents person.
The mark indicate approach in which each and all employee in our company contributes to company and society by being respected as an individual. This mark expresses strong wish that our company's group continually put ourselves as a industry standard (Benchmark) for PCB process equipment and each and all employee have vision to support the development of company and society.
Under this philosophy, we continually strive for further contribution to the PCB industry and challenge new possibility of the business.